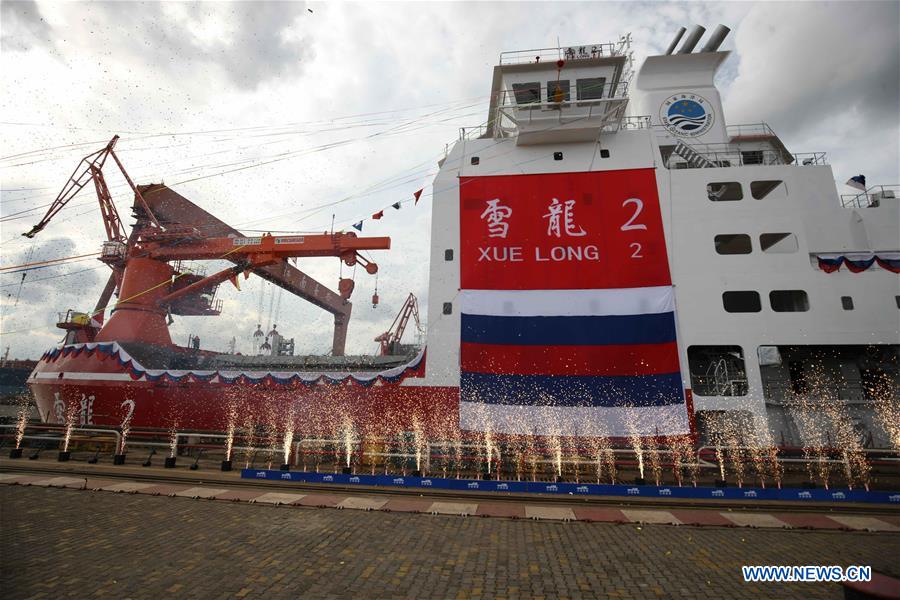 Taking a step further in its technological advancement journey, China, on September 10, launched its first domestically built polar icebreaker Xuelong 2. The vessel built by Shanghai-based Jiangnan Shipyard Group is the first of its kind and is capable of conducting complex missions in the polar regions.
Xuelong 2, which translates as Snow Dragon 2, is designed for a 60-day expedition with a capacity to carry 90 crew members and researchers. The ship can operate in minimum temperature of minus 30 degrees Celsius and can break 1.5-meter-thick ice at speeds of 2-3 knots. It is 122.5 meters long and 22.3 meters wide, with a displacement weight of 13,990 tons and a navigation capability of 20,000 nautical miles. It is first in the world to use a two-way ice-breaking technology, which means that it can break the ice while moving forward or backward – with the help of its bow and its stern.
The ship is equipped with six state-of-the-art laboratories – carrying intelligent sensors and wireless data connection – to collect data and manage samples. Additionally, its two 16-cylinder and two 12-cylinder Wärtsilä diesel engines help the vessel to speed up to 15 knots or 27.8km/h. It features a 3.2m x 3.2m moon pool near its bottom to provide access to the ice below the ship for scientific experiments and research.
Currently, Beijing's only active icebreaker is the first Xuelong, which was built in Ukraine in the early 1990s. However, the launch of Xuelong 2 has brought China into the league of nations with indigenous ice-breaking technology for marine research. This will also reduce its reliance on foreign technology.
Xuelong 2, upon completion and after necessary sea trials in 2019, is expected to join the first Xuelong in the country's expanding Arctic research fleet. During its missions, it will conduct complex surveys ranging from atmospheric research to seabed studies. The vessel will be a part of China's 10th Arctic and 35th Antarctic expeditions in 2019, as per Dong Yue, a research fellow at the Polar Research Institute of the Ocean University of China. It can be noted that the first Xuelong has already conducted nine Arctic expeditions and 32 Antarctic expeditions since its inception in 1994.
China, in recent years, has been making concerted effort to expand its reach in the new frontiers of technology such as polar regions, space, marine, and cyberspace. In January 2018, in its first Arctic policy, China clearly stated its ambition to explore and develop the region's natural resources jointly with the Arctic states.
Over the past few years, China's major shipping company COSCO has been continually sending its vessels through Russia's Northern Sea Route for exploration of the Arctic Region. China has also jointly funded – with Russia – the construction of Yamal gas plant in its Arctic Siberia region. The U.S. sanctions on Novatek – Russia's privately-owned gas producer – had made it impossible for the company to borrow funds from Western banks. However, the Chinese fund resolved this funding issue for the company. In order to strengthen its market presence in Asia, Russia is eager to develop a shorter route to access coveted Asian markets.
China, in its Arctic policy, has also proposed the construction of a "Polar Silk Route," which will integrate the Arctic region into its Belt and Road initiative. It also highlighted that this initiative could shorten the shipping time between China and Europe by 12 days in comparison to the traditional route which runs through the Indian Ocean and the Suez Canal. Moreover, China stated that it will conserve the natural environment and avoid any encroachment upon the traditions and cultures of the local people during the integration process.
Chinese officials in the recent past have confirmed Beijing's active participation in various researches along the Arctic Region. The main intention is to provide sustainable economic and social development of the region by facilitating its connectivity to the other parts of the world. Chinese engineers have already started working on another "next-generation icebreaker" which will be more advanced than Xuelong 2 with three meters of ice-breaking capacity in minus 45 degrees Celsius temperature.
The current trend indicates that China will continue to improve its technologies related to marine research in the polar regions. It will also accelerate its exploration along the Arctic and Antarctic regions in the years to follow. This endeavor will not only make China self-reliant in the areas of marine exploration but will also add many new feathers to its golden cap of technological advancements.
Rachana Gupta is a China Focus columnist, an expert author of Ezine articles and an active blogger and poetry writer.